London, Baby*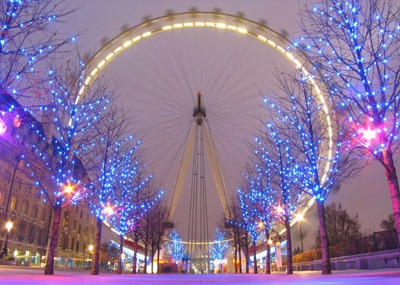 Guess who's going to London in May? Guess. I'll give you a hint.
I am.
That's right, friends, I finally broke down and broke in my new credit card. The card that was supposed to be used "for emergencies only" now has a pretty large balance on it. Scary as that may be, it's so incredibly worth it.
I will be going from May 26th to June 10th to visit my Brit Boyfriend and spend the better part of 2 whole weeks cuddling up to him and making up for lost time. In addition to that, we are looking to tour London, Wales, and Ireland. Let the planning begin.
In order to make the time fly by as much as possible, we have decided to initiate our Countdown to London on February 1st. This way, we can gauge not only by months, but by days as well, pretty easily. On February first, it will be 114 days. Although, I'm sure we'll adopt some exceptions to that countdown, like we did when he was coming here in December. We didn't count Christmas or Christmas Eve because we knew those days would be too busy to wallow in our anxiousness of seeing one another. So, the only thing I can think of that will allow such an exception to Countdown to London is my birthday. I wanted to be IN London for my actual birthday, but spreading my trip out from the end of May to the beginning of June allowed me one extra personal day (we get them quarterly) and one extra vacation day (we get one monthly) to spend with my darling. So, I opted for a belated birthday in London for 2 more days Huw.
I actually don't think it's hit me yet, the fact that in (almost) 114 days, I will be stepping off an airplane and into a new country (moreover, into the arms of someone I have missed more than anything). I mean, don't get me wrong, I'm excited as all get out. But I casually tell people, "Yeah, I'm going to visit my boyfriend in London in May" instead of shouting out incoherent half-sentences about London and the Irish and the Eye. I think, when April starts, I will be getting more nervous and more excited.
Huw and I talk every night about some aspect of our trip. Whether it's conversation about how nervous I am to meet his parents or how romantic it will be to stand on Waterloo bridge at night and share a loving kiss (ew, I know, but I love him)…simply envisioning being there with him – well, I think it will be enough to get me through these next 4 months. Being away from him is the hardest thing.
So, although I'm freaking out about how I'm going to pay off my credit card (a hundred dollars at a time, and the interest won't kill me, right?) and the fact that my mom is scared to death about me traveling, OH, and let's not forget the fact that, the more I fly, the more scared of it I become…well, despite all those things, I think this is the wisest and best purchase I've ever made.
I'll be sure to keep y'all posted as the plans unfold. Curly, although I know that you'll probably meet Huw this Wednesday, get your drinking glass ready for me in May; I can't wait for all of us to hang out!
*A "Friends" reference, for those of you who didn't know. And shame on you for that.
Insignificance Conveyed @ 1:48 PM 12 GabbyGabbers